LAST1000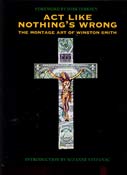 Title:
ACT LIKE NOTHING'S WRONG
Description:
Winston Smith's wild collages twist images of "normal life" into sinister, yet humorous, scenarios. He gained mass appeal through his work with the Dead Kennedys.
"It is impossible to pin down who's the 'best' collage artist in the universe, but Winston Smith would certainly leap to mind (and then blow that mind repeatedly). Most of his images are like a punch in the face. There must be ten zillion people doing collages for everything from Exxon ads to fanzines to street posters, so the competition is stiff; but Smith's work has stood out, glaringly, for the last 15 years as the most consistently startling, meaningful and technically accomplished in this bastard field. It's high time Smith became a rich, famous artist rather than the best-kept secret of the underground."
- His Most Holy and Orthodox Reverend Ivan Stang, High Pope of the Church of the SubGenius