DIRT0008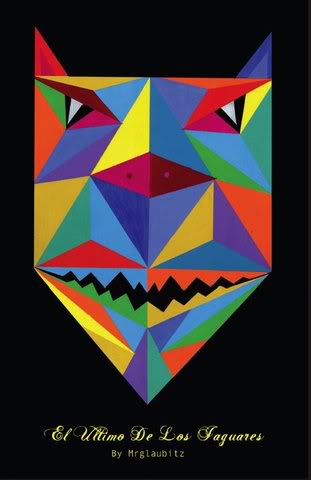 Title:
CHARLES GLAUBITZ - "El Ultimo De Los Jaguares" Color Zine
Description:
To commemorate the opening of The Charles Glaubitz Show here at Dirty Pilot. We published this fantastic 48 page full color, perfect bound zine. Limited to 80 books, hand signed and numbered by Charles. If you missed out on purchasing one of Charles amazing images, here is a chance to have almost all of them in one beautiful narrative. Take a look at a few sample spreads.
The Mexican illustrator Charles Glaubitz lives in Tijuana, which allows him to teach at nearby San Diego City College across the border. His work is influenced by ancient cultures, history, myth, alchemy, comic, spirituality, mysticism and Mexican pop culture.
Many of his drawings, acrylic paintings on canvas, collages and installations refer to archetypical narratives of destruction, final struggle and new creation. His work has been exhibited in the USA, Mexico and Spain and published in Rolling Stone Magazine, San Francisco Chronicle, Texas Monthly, Complot and Juxtapoz Magazine.